New Year's Eve Essentials: Grand Central Edition
12/29/16
Now that you know how to have a New York New Year's Eve, you'll need some essentials to bring with you. From party favors to wardrobe necessities, here's everything you can shop before the ball drops right here in Grand Central Terminal!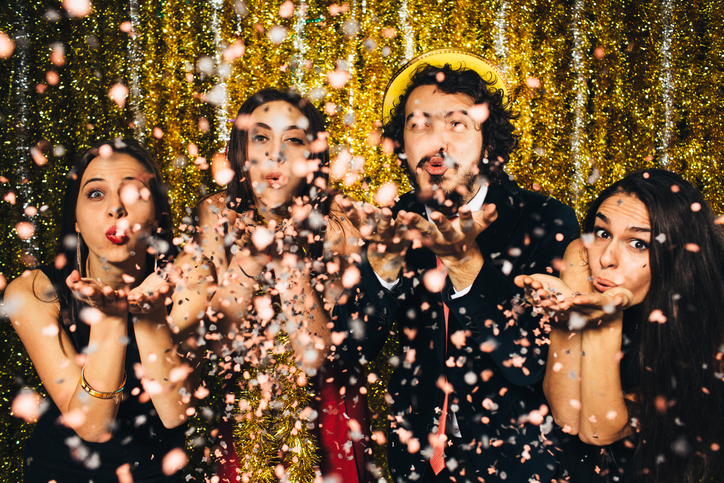 Confetti Cannons - Snap, pop, bang! Be sure to stop by PIQ in the Shuttle Passage to pick up some must have party favors. These confetti cannons come three to a pack, are embellished with shiny gold foil and contain multicolored streamers! [$4.99]
Box of Champagne Truffles - Champagne toast meets sweet treat. Stop by Jacques Torres in the Lexington Passage to grab a box of Champagne Truffles - made out of milk chocolate, fresh cream and Taittinger Brut La Française Champagne. [$20 (10 piece) or $48 (24 piece)]
Emerald Sequin Wrap Party Dress - Ladies, are you still in need of the perfect party dress? Head to Tias Place in the Lexington Passage to browse many ready-to-wear items like this Emerald Sequin Wrap party Dress. [$98]
Sport Coat - Whether you are attending a New Year's Eve Gala or hosting a small party, there is one men's jacket versatile enough for the occasion: the sport coat. It's a happy mix of formal and casual and is the best way to dress up an outfit. Head to Banana Republic on 42nd Street to find a jacket of your liking! [Price Varies]
Alligator Watch Strap - Any man or woman can complete their New Year's Eve look with a new watch strap to coincide with their ensemble. With a variety of colors and styles to choose from, be sure to stop by our shop in the 45th Street Passageway tomorrow by 1pm to pick up the perfect band to ring the New Year in, in style! [Price Varies]
As a friendly reminder - Central Watch will be open Friday, December 30th from 8am - 1pm and CLOSED Monday, January 2nd in observation of New Year's Day. From all of us at Central Watch, we hope you have a Happy and Healthy New Year!
At Central Watch, our goal is provide the expert watch repair and exemplary customer service at reasonable prices. Follow us on social media to stay up to date with company and industry news, and any and all things New York City!
Return