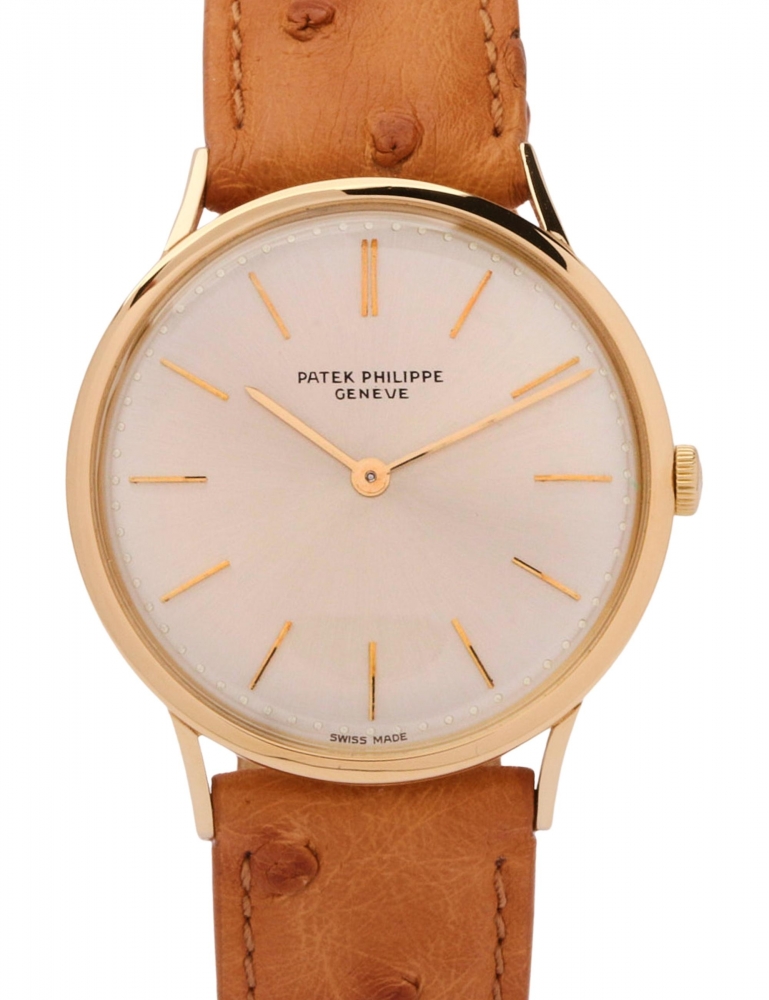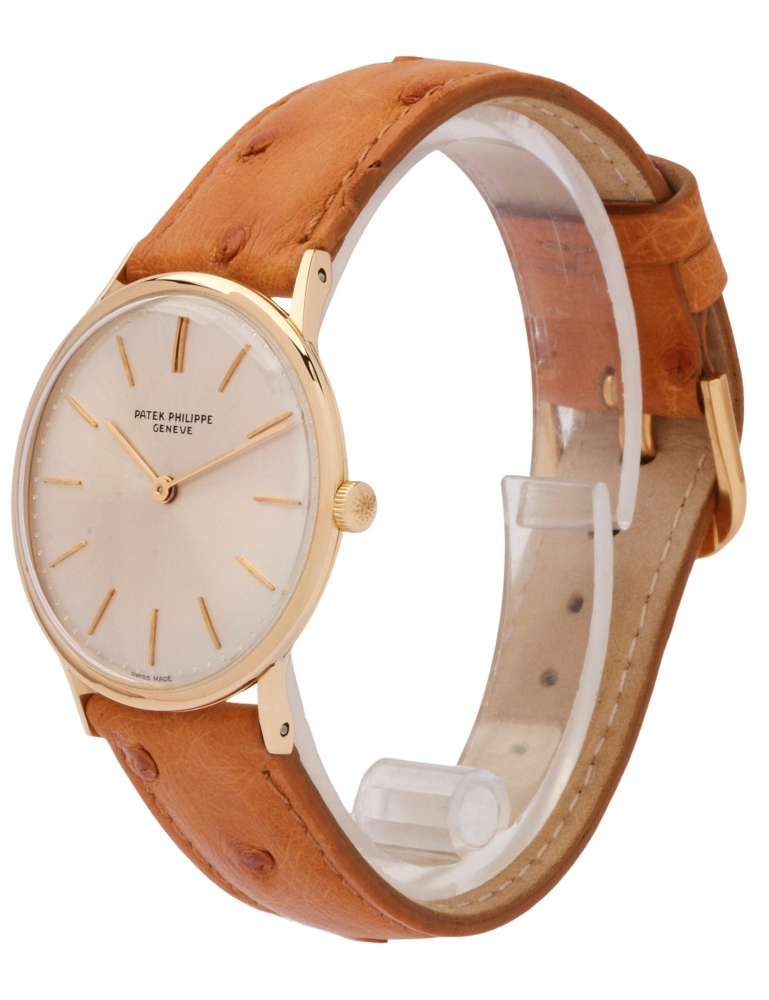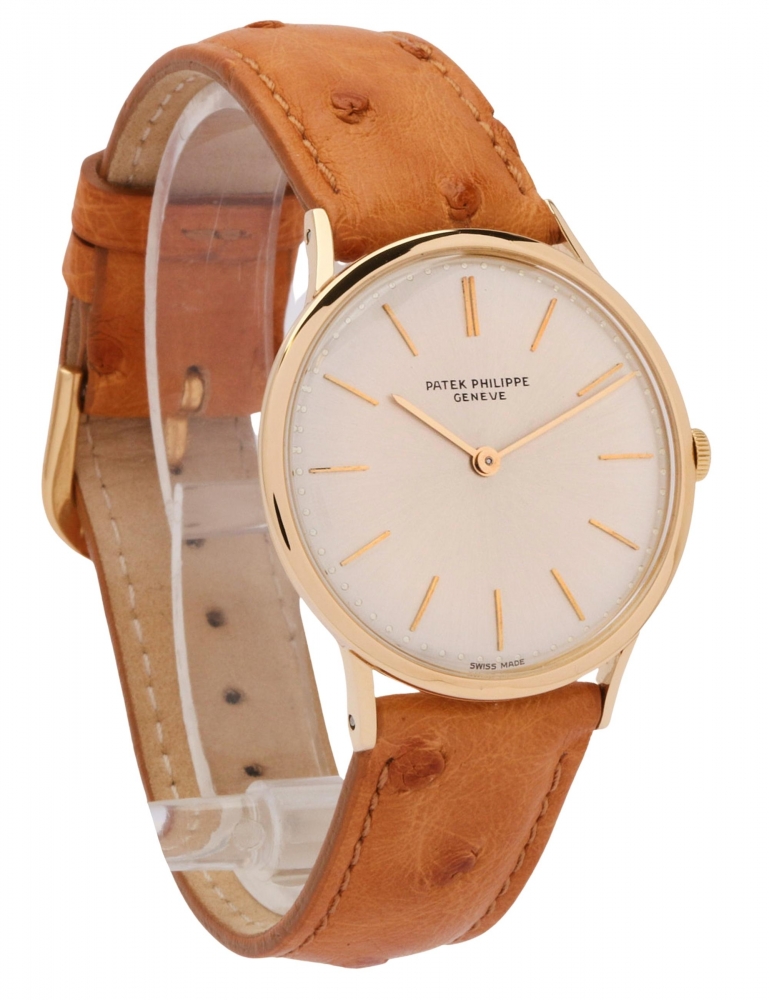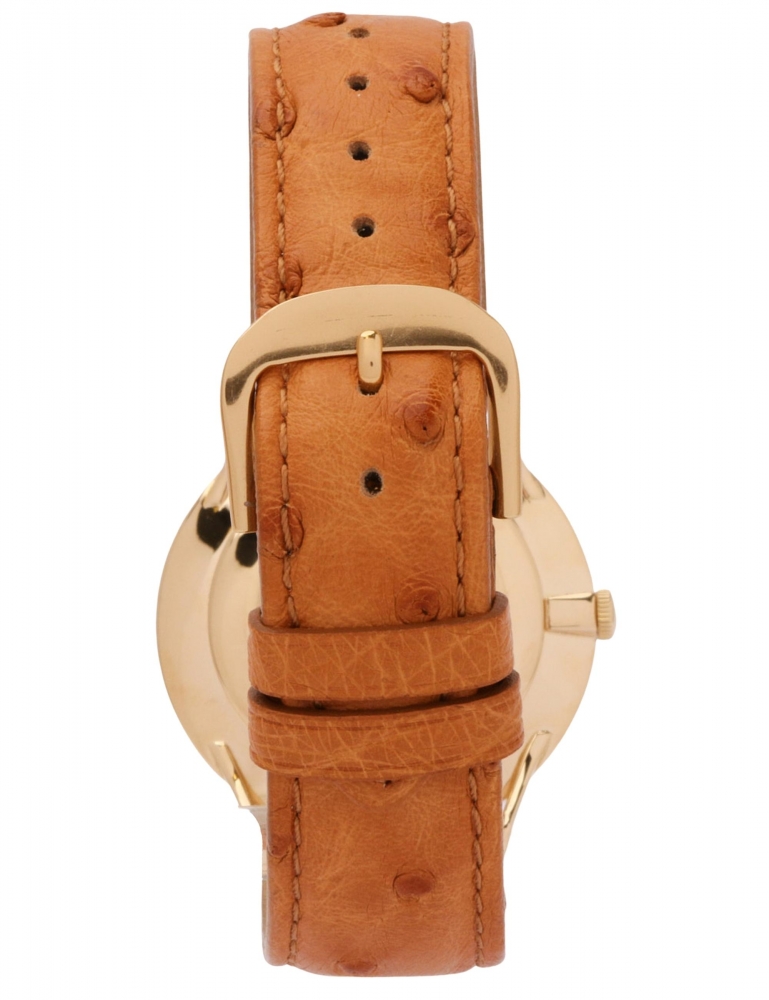 * All pre-owned watches are fully serviced by our expert watchmakers, guaranteed authentic and come with a 24 month warranty. *
Calatrava
Brand: Patek Philippe
Model Name: Calatrava

Year: 1960's
Stock #: 2569
Reference #: 3484
Serial #: 263XXXX
Dial: Silver
Bezel: Smooth 18kt Yellow Gold
Crystal: Acrylic
Case Size: 34mm
Band: Brown Ostrich Leather
Material: 18k Yellow Gold
Movement: Manual
Water Resistant: No

Status: Preowned
Box and Papers: Original Box
Serviced: Yes, Always
Warranty: 24 month GCW warranty
About the Watch
Patek Philippe stands firmly at the top of the world's most prestigious and revered watch manufacturers. It was founded in 1839 by Antoine Norbert de Patek and Francois Czapek and originally known as Patek,Czapek & Cie, which quickly rose to fame by creating pocket watches for monarchs and other aristocrats. By 1845, Adrien Philippe joined the company after winning the bronze medal for his keyless winding and hand-setting system at the Industrial Exposition hosted in Paris. The brand was officially renamed Patek, Philippe & Cie in 1851. They continued to develop cutting edge technology including the first tourbillon pocket watch in 1863. After Antoine Patek's passing in 1877, Adrien Philippe brought in his son, Emile Joseph, to run the business which he did proudly. In 1932, Patek Philippe was acquired by the Stern brothers, Jean and Charles Henri. They were the owners of a prestigious dial company with a history of supplying dials for Patek Philippe. The Calatrava, seen here, is one of the collections introduced during the Stern years. Others include the Nautilus, Ellipse, Aquanaut and the Twenty 4. Henry Stern took over in 1958 followed by Philippe Stern in 1993 and finally Thierry Stern in 2009.
Every generation of Patek Philippe leadership has worked to honor their tradition of excellence as well as lead the watchmaking world in technology and artistry.
Key Design Features
Perfect entry level Patek Philippe for any collector

34 mm 18k gold case

Stunning luster silvered dial with acrylic crystal

Reference 3484
Things You Should Know
Patek Philiipe has over 100 patents for watch dials, cases, clamps and other technology.

In 1851 Antoine Norbert de Patek traveled to New York to expand the brand internationally. There he met Charles Lewis Tiffany and initiated a relationship that still exists today. Tiffany & Co. is the only American retailer whose name appears on a Patek dial.
About the Brand
The watch manufacture we today call Patek Philippe was founded by Polish immigrant Antoine Norbert de Patek in Geneva in 1839. Eventually, Patek teamed up with French watchmaker Jean Adrien Philippe, a pioneer in keyless pocket watches — which could be set by use of a crown rather than a key.
Together, Patek, Philippe, and a number of other accomplished watchmakers set about combining timekeeping innovation with luxurious designs and pristine style. The brand made the first Swiss wristwatch in 1868; in 1889 they patented a perpetual calendar mechanism for the pocket watch. Throughout the 20th century Patek Philippe continued these innovations in wristwatches, including patents for the split-seconds chronograph, perpetual calendar, self-winding mechanisms, time-zone watches, tourbillons, and even an all-electronic clock in 1952.
Patek Philippe is renowned for their luxury watches, which include the Calatrava (introduced in 1932), the Nautilus (introduced in 1976), and the Aquanaut (1997). Their Grand Complication line combines precious metals, clean design, and haute horology into art. And today, all of Patek's watches — from ultra-thin dress watches to large steel sports watches to perpetual calendars and beyond — are beloved for their pristine timekeeping and luxurious feel.