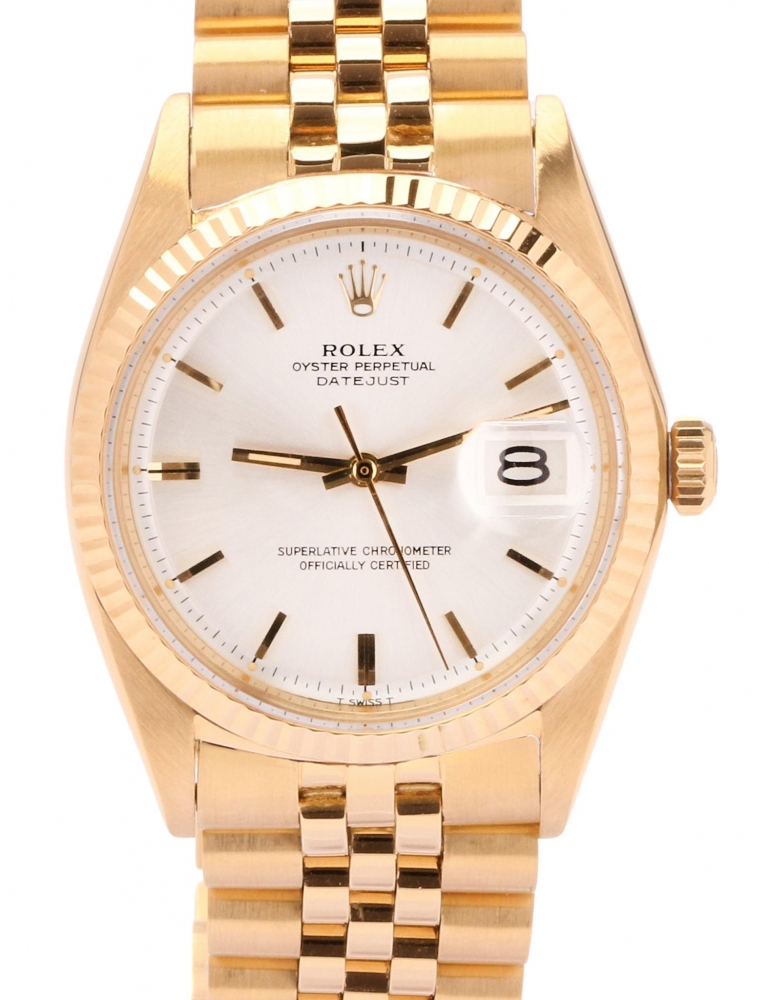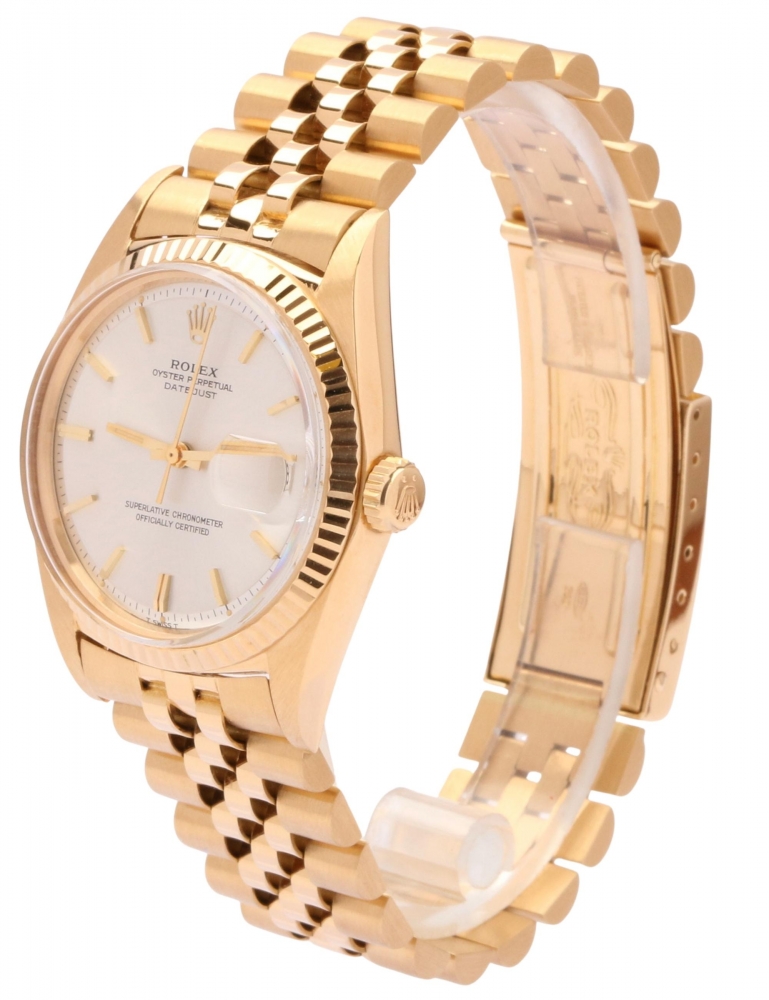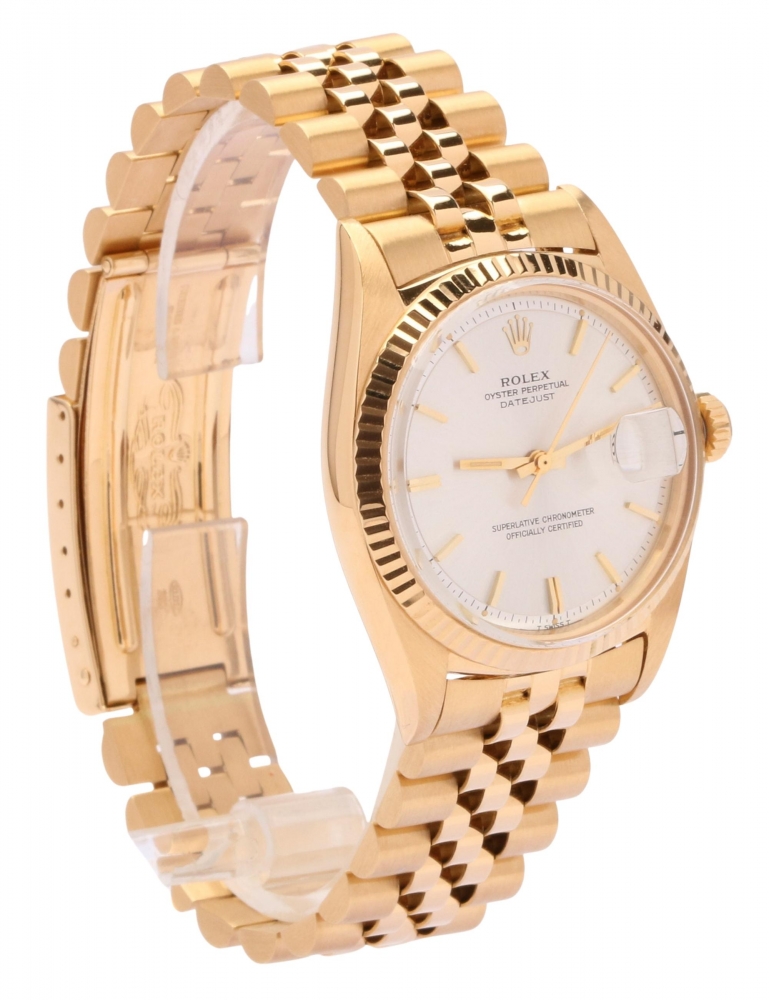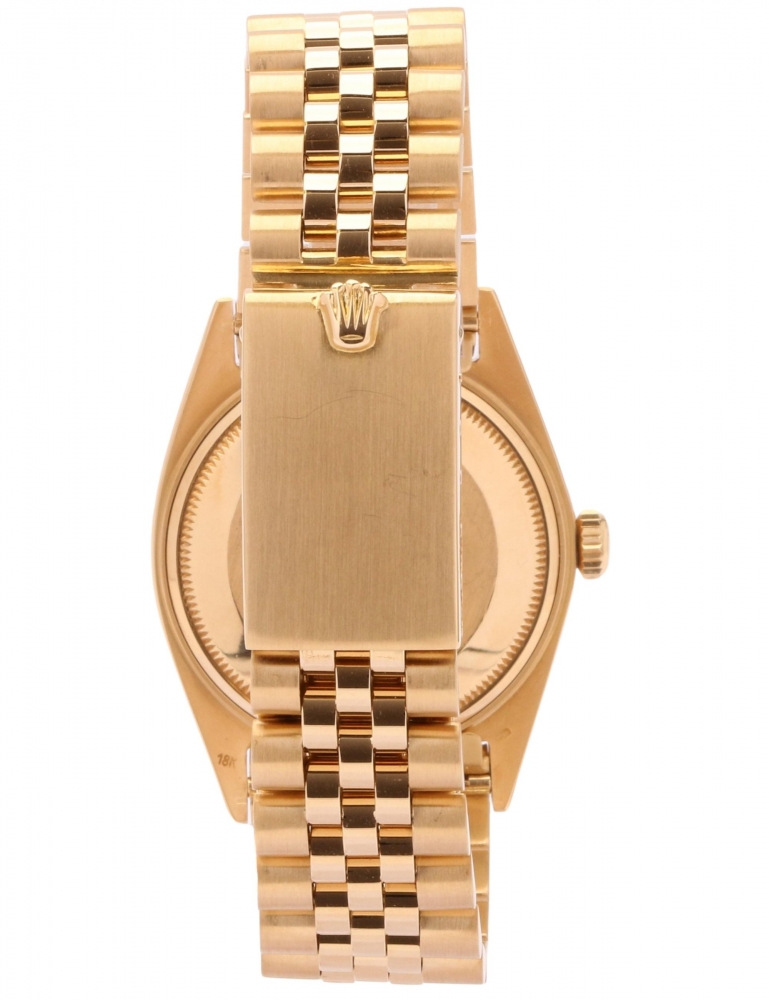 * All pre-owned watches are fully serviced by our expert watchmakers, guaranteed authentic and come with a 24 month warranty. *
Oyster Perpetual Datejust
Brand: Rolex
Model Name: Oyster Perpetual Datejust

Year: 1969
Stock #: 179751
Reference #: 1601
Serial #: 209XXXX
Dial: Pie Pan
Bezel: Fluted 18kt Yellow Gold
Crystal: Acrylic
Case Size: 36mm
Band: Original Jubilee Bracelet
Material: 18k Yellow Gold
Movement: Automatic
Water Resistant: No

Status: Preowned
Box and Papers: No, No
Serviced: Yes, Always
Warranty: 24 month GCW warranty
About the Watch
Every watch collection must include a classic and the Rolex Datejust is the ultimate example. Timeless in its style and sophistication, superb in performance and versatility, the Datejust is the perfect watch to start or complete a well rounded collection. Originally launched in 1945, the Datejust was the first self-winding watch with the date display at the 3 o'clock position. Rolex introduced the Datejust to celebrate the company's 40th anniversary. It quickly became one of the brand's cornerstone models and remains so to this day. The Cyclops lens to magnify the date for increased visibility was added in 1953. The 18 kt gold Datejust featured here is from 1969. It has been fully serviced by our watchmakers and comes with a 24 month warranty.
Key Design Features
– 1570 Caliber movement
– 36mm case
– "Pie Pan" dial referring to the sloped edges
– Gold fluted bezel
– Jubilee bracelet
Things You Should Know
Unlike many other Rolex models that were designed for particular activities like scuba diving or car racing, the Datejust was envisioned specifically as a piece for everyday wear.

Rolex has continued to evolve the Datejust collection to meet the needs of their customers, inducing the introduction of the Datejust II model which now includes sizes ranging from 28-41mm.
About the Brand
Founded in 1905, Rolex has since grown to be one of the most iconic, recognizable, and luxurious watch brands in the world. Seeking to succeed independently from the jewelers he had been collaborating with in London, Hans Wilsdorf relocated to Switzerland in 1908. There, the brand's iconic name "Rolex" came to be — supposedly because Wilsdorf thought it was easy to pronounce and sounded like a watch being wound.
Obsessed with precision and accuracy, Wilsdorf worked hard to fit his timepieces with quality movements that would surpass the test of time. After gaining some popularity, Rolex relocated once again — this time to a watchmaker's town in Geneva. In 1926 they released the Oyster case, the world's first water-resistant case, complete with an airtight, screw-down crown. In 1931 Rolex patented a self-winding mechanism called a Perpetual rotor — and the Oyster Perpetual was born. This caliber of innovation and creativity paved Rolex's trajectory to the prestigious, industry-leading brand they are today. A number of Rolex references — like the Daytona, Submariner, Datejust, and GMT Master — are among the most sought-after vintage watches of all time. To date, Rolex is the largest manufacturer of certified Swiss-made chronometers. Both their new and vintage watches — many of which increase in value as they age — are considered a mark of prestige, a good investment, and one of the best watches in the world.