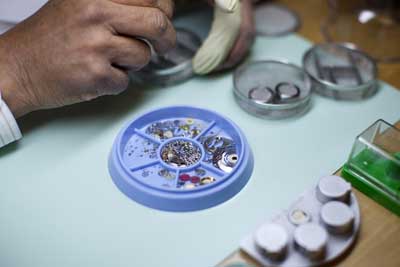 Watch Cleaning
In many ways, the watch is a mechanical marvel. Made of hundreds of tiny moving parts, a watch's components all fit together to form a working, long-lasting timepiece. But after years of use, watches can acquire dirt and grime and cease to function properly. Scratches can also appear on the watch face, damaging the glass. When it comes to cleaning a watch, there are a lot of guides on the Internet that give you advice on doing it yourself. But a watch is such a delicate piece of equipment that it's best to leave cleaning to the professionals. At Central Watch , we're proud to employ some of the finest watchmakers in the industry, with the skills and experience to restore your watch to its original condition.
Our expert watchmakers understand the delicate processes behind each watch. For this reason, they use only the finest tools and the most high-quality cleaning products to ensure that they don't disrupt the balance of the operations. We can service every make and model of watch, from brand new models to old family heirlooms, and everything in between. We'll remove the grit and grime using a safe, gentle process that preserves the delicate equipment.
In addition to cleaning away dirt, we can also repair scratches on the surface of the watch face. Most watches accrue a few scratches throughout their lifetime, but if the scratches are not treated, they can be a permanent blemish on the watch face. We'll wipe away the scratches and leave the glass looking fresh and new as if it just came out of the workshop. We can also clean dirt and smudges from wristbands, giving your watch a complete, thorough clean.
If you're interested in speaking with us about getting your watch cleaned, you can send an email to info@centralwatch.com or call (212) 685-1689. You can also bring your watch to the following address for a free evaluation:
Central Watch
45th Street Passageway
Grand Central Station
NYC, NY 10017
With a trained team of expert watchmakers, you can rest assured that your watch will be cleaned carefully and thoroughly. We have years of experience in restoring antique and pre-owned watches to their original condition. It's our commitment to watchmaking that makes us one of the finest businesses in the industry.