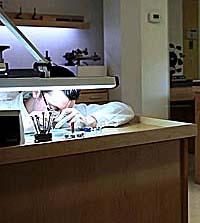 Central Watch Offers Expert Watch Repair Services
Introducing Central Watch
Do you appreciate the exquisite beauty of fine watches? Today, enthusiasts often assemble valuable vintage collections of wristwatches and pocket watches.
Repairing and maintaining these assets in good working condition requires expertise. When you seek experienced, dependable watch repair services, think of Central Watch. We clean and repair watches for customers, treating every project as a top priority.
Our Service Area
Although our watchmakers work in New York City, we accept watch repair projects by mail nationwide. Whenever you seek the assistance of knowledgeable horologists, skilled watch experts, contact Central Watch.
In many parts of the world today, the numbers of qualified watch repairers have declined sharply. Experienced professionals have retired in significant numbers, with fewer trainees choosing to enter this field of horology. Yet when you need expert, capable watch repair services, you can still depend upon Central Watch in New York City. We welcome new business!
Maintain Your Investment
A carefully maintained watch brings years of enjoyment and it is something wonderful to pass down to your children someday. Ask us to perform any or all of these important repair services for you to help preserve your investment in your wristwatch or pocket watch:
Ultrasonic band cleaning
Watch battery installation or replacement

Chronograph repair

Broken or damaged watch face repair

Crystal cleaning or replacement

Mechanical watch overhauls

Re-sizing watch bands correctly, and More
Experts today note the appreciating value of many brands of well-made watches. We urge you to always insure these items whenever you send them through the mail.

Count on Central Watch
We hope you will rely on our expert team at Central Watch! Let us help you maintain your timepieces!
Specialized Tools And Supplies
Our company furnishes the expensive specialized tools and brand-specific supplies required to clean and service a wide assortment of watches. Enjoy the pleasure of wearing functional, attractive timepieces. Maintain the value of your collection by keeping your watches in excellent working condition.
Our experts repair watches manufactured by leading companies. For instance, you can entrust timepieces with chronographs to our care. Repairing the intricate mechanisms of many wristwatches requires both extensive knowledge and talent. An amateur typically cannot accurately repair some complex watch mechanisms. We can. We are the experts of watches.
Count on Central Watch
We hope you will rely on our expert team at Central Watch! Let us help you maintain your timepieces!