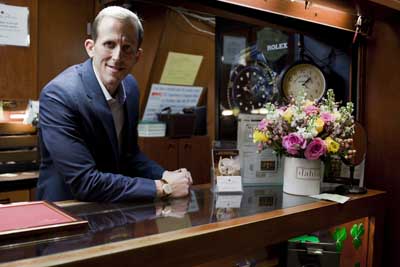 Are you the owner of a watch that needs part replacement, a good fine-tuning, or maybe even a complete overhaul? At Grand Central Watch , we are proud to offer some of the best watch services in the industry, with a team of trained professionals that can restore your watch to its original condition. With 60 years in the business and counting, we have serviced thousands of watches from virtually every brand in the industry. Our customer service is unparalleled in the New York City area.
Quality you can Count on
Our expert watchmakers understand the delicate, precise workings inside every timepiece. With years of experience and state-of-the-art equipment, they've got the tools to restore your vintage watch and have it working like new. If you need replacement parts, we maintain direct account with some of the world's biggest brands, including Rolex, Omega, Tag Heuer, Concord, Movado, and the Swatch Group. If you own a vintage watch, we have an exclusive collection of vintage watch parts that can't be found anywhere else.
In addition to repair services, we also offer battery replacement, wristband cleaning, bracelet sizing, and pressure testing. We also sell a large selection of wristbands if you are looking for a replacement. Want to purchase a new watch altogether? What you see on the website is a fraction of our selection, so feel free to give us a call to inquire about our inventory. Whatever you are looking for, we will not give up until you walk away satisfied.
Interested in Getting an Evaluation?
If you would like us to evaluate your watch, please bring it to the following location for a free estimate:

Grand Central Watch
45th Street Passageway
Grand Central Station
NYC, NY 10017
Estimates may vary, but are generally based on our list of repair services. For more information, you can send an email to info@centralwatch.com or give us a call at (212) 685-1689. Once you get in touch with us, we will discuss your options and help you decide what course of action is best for you. If you are looking to sell your watch, we also buy watches directly from our clients.