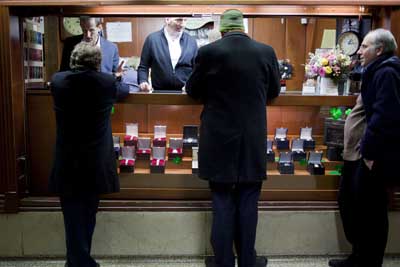 For decades, watches have been a symbol of class and elegance. Watches are presented as gifts and passed down as family heirlooms. A luxury watch is one of the ultimate signs of wealth, with high-quality materials and a classic design. For these reasons and more, Central Watch is proud to offer some of the finest luxury and vintage watches on the market. With a team of expert watchmakers, Central Watch is dedicated to restoring old watches to their original beauty, then selling them to the public to be worn, enjoyed, and passed down to their own children.
Craftsmanship You Can Count On
In the case of antique and pre-owned watches, every watch we sell is carefully restored back to its original working condition. We can work with every make and model on the market, with a trained team of technicians backed by years of experience and state-of-the-art equipment. Our watchmakers understand the delicate processes behind each watch, and are trained to spot even the smallest defects. Every watch you buy comes with an 18-month warranty and a 25% discount on repair and cleaning services for the lifetime of the watch.
A Wide Range of Brands
At Central Watch, we're proud to offer some of the leading brands in the world, including Rolex, Cartier, Burberry, Tiffany, and Montblanc. Our selection may vary, but we always sell high-quality timepieces made of some of the world's finest materials. There's usually a watch for every price range, from a few hundred dollars to several thousand. And the wide range of designs means that you're sure to find something that suits your taste.
In addition to watches, we also sell watch bands in a variety of materials, including alligator, calfskin, nylon, and vintage leather. Our bands are high-quality and come in a wide range of colors, ranging from subtle browns and blacks to bright shades like yellow and fuchsia. If you're not happy with your current strap, you're sure to find something that fits your watch perfectly.
Ready to Take a Look?
If you're interested in visiting Central Watch, we're available at the following address:
45th Street Passageway
New York, NY 10017
Our hours are the following:
Monday to Wednesday: 8:00 AM--5:20 PM
Thursday: 8:00 AM--6:00 PM
Saturday and Sunday: CLOSED
You can also call us at (212) 685-1689 or send an email to info@centralwatch.com.